---
---
Lake Township Planning Commission
Regular Meeting
Wednesday, May 25, 2022 at 6:00 PM
>> Agenda <<
>> Unapproved minutes of April 27, 2022 <<
Meeting will be held in the Lake Township Hall
4988 W. Kinde Rd, Caseville, MI 48725
Masks and social distancing will be observed
Please join our meeting from your computer, tablet or smartphone
https://global.gotomeeting.com/join/391201101
You can also dial in using your phone.
United States: +1 (312) 757-3121
Access Code: 391-201-101

New to GoToMeeting? Get the app now and be ready when your first meeting
starts: https://global.gotomeeting.com/install/391201101
---
---
NOTICE OF SPONGE MOTH SPRAYING
The Townships of Lake and Hume will be treated for Sponge Moth Suppression. The aerial application will be made by Evanís Aviation, Inc., P O Box 123, Imlay City MI 48444. The treatment will be done between May 30th and June 15th. Residents of both townships were notified by first class mail. The material to be applied is Foray 48B (Bacillus thuringiensis var. kurstaki-Btk), which is a naturally occurring soil bacterium that specifically kills caterpillars that are feeding on leaves at the time of application. There are no reentry restrictions with this pesticide. As application dates approach, updates will be provided by WLEW AM 1340 or FM 102.1.
---
---
NOTICE OF PUBLIC HEARING
Lake Township Board (Huron County)
June 7, 2022 at 7:30 AM at the Lake Township Hall, 4988 W. Kinde Road, Caseville, MI 48725
Planned Unit Development (PUD) Application
Tatham/Anderson
>> Notice <<
---
NOTICE
Meeting Date Change
The date for the June 2022 meeting of the Lake Township
Board of Trustees has been changed to
June 27, 2022 at 7:30 P.M.
The meeting will be held at the township hall,
located at 4899 W. Kinde Road, Caseville, Michigan
This change is for June 2022 meeting only.
The regular meeting date and time will resume in July 2022. For further information, see our website at laketownship.net or contact the clerkís office at clerk@laketownship.net or
call 989-856-4867
We apologize for any inconvenience this may cause.
Jim Deming, Clerk
---
---
Notice
Effective May 1, 2022
Fee for large black garbage bags will increase from $3 to $4.
White kitchen bags will remained at $2.
A flat fee of $1 per visit will be assessed for recycling.
The maximum of two standard recycling containers per visit.
---
---
VIRTUAL MEETING UPGRADE
Covid 19 has created new challenges for everyone. One of our greatest challenges at Lake Township was public meetings. As public bodies, our meetings must be open to all. The safety to our officials and social distancing is problematic in our hall's limited space. We have recently installed a large screen TV with a video conferencing camera which will be used for our meetings allowing access via GotoMeeting starting next week with our April Planning Commission meeting. We hope this upgrade will afford safe and effective access to anyone interested in attending. Anyone attending meetings in person will be required to wear a mask and social distance. All notices/agendas will provide the virtual access information.
---
---
Notice
NOTICE OF LAKE TOWNSHIP
NEW OFFICE HOURS BEGINNING MAY 1, 2022
New Township Hall Office hours are as follows;
Monday, Wednesday and Friday 10:00 AM to 2:00 PM
Thursday 8:00 AM to Noon
Tuesday Closed
The township hall is located at 4988 West Kinde Road, Caseville, MI
Jim Deming, Clerk
---
---
Warning
Oak Fungus
Help Prevent the Spread
Don't touch that saw!
Pruning oaks now could invite disease.
---
NOTICE
Itís spongy moth (formerly gypsy moth) season:
>> What to expect in 2022 <<
---
NOTICE
Gypsy Moth Alert now known as
>> Spongy Moth <<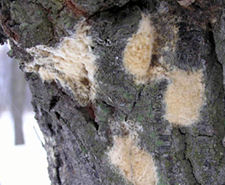 Please check your trees and structures on your property for gypsy moth masses. If you see these egg masses, please contact the township at 989-856-4867 or via email to info@laketownship.net and provide your name, address, phone number and/or email address. These masses are typically in protected areas, i.e. on the underside of tree limbs, on wood siding under leaves or other sheltered areas.
We are trying to determine where the hot spots are that may need to be sprayed in 2022. Since we may need to follow up with an onsite inspection on your property, please let us know if you have any concerns with that. We appreciate your help.
>> Investigate trees now for signs of gypsy moths. <<
>> Oil or remove gypsy moth egg masses now. <<
| | | |
| --- | --- | --- |
| Examples taken locally: | | |
| >> | | |
| >> | | |
| >> | | |
---
---
NOTICE
>> Information on Recycling Changes <<
>> Emterra Recycling Flyer <<
Effective May 1, 2022 thru November 1, 2022
Recycling will only be accepted at the Transfer Station on Wednesdays and Saturdays. No recycling will be accepted on Sundays.
---
COMCAST
>> PROGRAMMING ADVISORY <<
>>Newest Programming Advisory<<
---
NEW WARNINGS BELOW
---
Tree of Heaven
is no Angel
>> Learn more <<
---
The invasive
Autumn Olive
>> Learn more <<
---
The invasive
Hemlock Wooly Adelgid
>> Learn more <<
---
---
Burning
Permits
Call
989-856-9198
---
Note

Transfer Station Hours

(Winter Hours)

November thru April

Sundays 9 AM - 4 PM

Wednesday 2 PM - 5 PM

(Summer Hours)

May thru October

Wednesday 2 PM - 6 PM

Saturday 9 AM - 1 PM

*Sundays 9 AM - 4 PM

(Sunday No Recycling)

Lake Township

Adopted Budget for Fiscal Year 22 - 23
---
---
FYI

There are subjects and information that you may not be aware of on the link below.
---
---
> Past Notices <
---
---
Mon.- Wed.-Fri. 10 a.m. to 2 p.m.

Thurs. 8 a.m. to Noon

Tues. Closed

For further information please call the

Township Hall 1-989-856-4867

or

E-mail us anytime at

Office Closings

Martin Luther Day 01/17/22

Presidents Day 2/21/22

Good Friday 04/15/22

Memorial Day 5/30/22

Independence Day 7/04/22

Labor Day 9/05/22

Columbus 10/10/22

Veterans Day 11/11/22

Thanksgiving Day 11/24/22

Day after Thanksgiving

Christmas Holiday's

New Year's Day 1/1/23
---
Drive Carefully and Stay Safe
---
---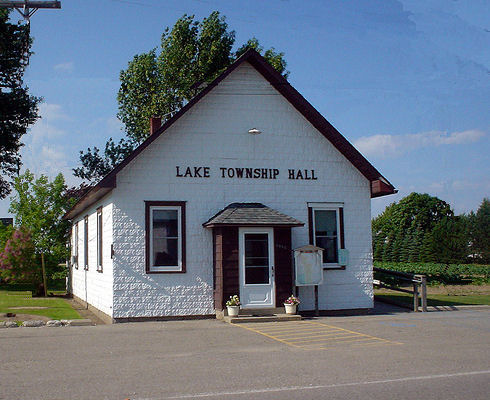 Welcome to Lake Township, a place where you will find a Recreational, Residential, Rural and Agricultural atmosphere. We are located in Michigan's Lower Peninsula 120 miles North of Detroit at the Tip of the Michigan Thumb. We boast 6 miles of sandy shoreline, facing Lake Huron in the Saginaw Bay. We have pristine wooded areas, State Parks, County Parks, Hiking Trails, Good Fishing, Water Sports, Scenic Turn out and summer rentals.